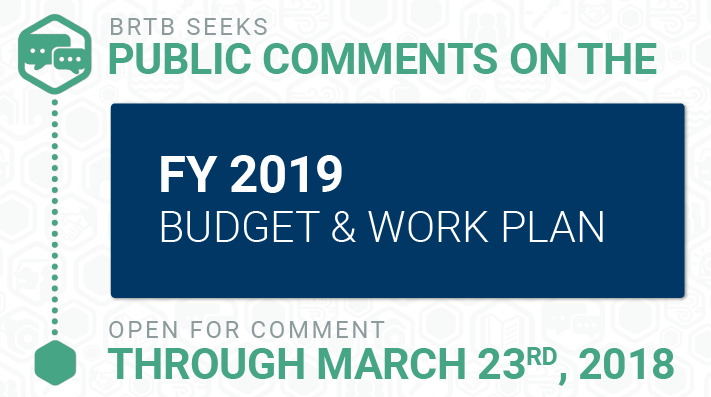 BALTIMORE, MD (February 21, 2018) – The Baltimore Regional Transportation Board (BRTB) seeks public comments on its proposed updated Budget & Work Program for Fiscal Year 2019 through Friday, March 23, 2018.

The BRTB is scheduled to vote on the proposed changes on Tuesday, April 24, 2018.

The BRTB's Budget and Work Program is known as the Unified Planning Work Program (UPWP) for Transportation Planning. It details projects, studies and other activities to be completed by BRTB members and staff of the Baltimore Metropolitan Council (BMC).

The UPWP includes both local and region-wide activities. The BRTB develops this list of regional transportation planning activities every two fiscal years. This addendum updates the funding tables for FY 2019 and identifies several new tasks.

The updated UPWP includes a total budget for FY 2019 of $7,517,700 that is funded through new allocations of federal transportation funding and projected carryover from FY 2018 to support the additional tasks as outlined below. New local and regional projects include:
Parole Town Center Transportation Master Plan – Anne Arundel County will conduct a comprehensive assessment of the existing and future mobility needs in the Town Center area.
Columbia Gateway Transportation Improvement Implementation Strategy – Howard County will conduct a study for the Columbia Gateway, the 8 million squared-feet complex of commercial and industrial space. The complex is an important and critical driver of economic activity in Howard and Anne Arundel counties, as well as the region. It is starting to experience additional development pressure as restrictive covenants on properties expire.
Kent Island Cox Creek Connector Study – Residents and visitors of Kent Island continue to experience increased traffic on the island, particularly during the summer months when beach-bound vehicles increase along the US 50/301 Bay Bridge Corridor. The majority of the congestion experienced on the island is attributed to increasing traffic volumes on the Bay Bridge, although Kent Island has experienced some growth caused by new residential areas, and retail and business-development. This project is to take the concepts from the Kent Island Transportation Plan and refine them into preferred alternatives and initial design.
The BRTB also proposes adding several new focus areas for BMC staff to pursue. They include:
Assisting local jurisdictions in preparing project information for the Chapter 30 scoring and Priority Letter submittals;
Studying and developing guidance on how to accommodate and utilize new or emerging transportation trends and technologies. Examples include: ride-hailing, shared-mobility, electric vehicles, connected and autonomous vehicles, or combination of them to support regional and local transportation, growth, and environmental goals;
Performing forecasted population and employment scenario analysis. Current forecasts predict shifts in labor exchange between the Baltimore and Washington regions and greater reliance on labor force markets outside of the former. This analysis will explore how changing labor market locations impact planned transportation improvements and what shifts in the local labor market could take place.
B'More Involved
The public is invited to share their thoughts on these proposed regional transportation planning activities through Friday, March 23, 2018. Please send all comments in writing to:
Email: comments@baltometro.org
Twitter: @BaltoMetroCo or @BmoreInvolved, using #BRTBlistens
Mail: The Baltimore Regional Transportation Board
1500 Whetstone Way, Suite 300
Baltimore, MD 21230
Fax: 410-732-8248

Comments may also be shared during the Public Comment Opportunity at the BRTB meetings at 9 a.m. on Tuesday, March 27, 2018, or before the vote on Tuesday, April 24, 2018.
The BRTB is the federally recognized metropolitan planning organization for transportation in the region. BMC provides the BRTB with staff support.

The BRTB operates its programs and services without regard to race, color, or national origin in accordance with Title VI of the Civil Rights Act of 1964, and other applicable laws. Appropriate services can be provided to qualified individuals with disabilities or those in need of language assistance who submit a request at least seven days prior to a meeting. Call 410-732-0500.
###