Through the Bicycle and Pedestrian Advisory Group, BMC works with member jurisdictions and state agencies to promote biking and walking as safe and efficient alternatives to motor vehicle travel. Biking and walking promote individual health, help ease traffic congestion, and reduce emissions that contribute to air pollution.
Through the planning process, the BPAG serves as a forum for planners and engineers to exchange information and coordinate work to develop plans and programs to best accommodate bikers and walkers, and to encourage biking and walking in the region. Our strategies include the development of a prioritized network of infrastructure improvements, policies that promote improvements specific to biking and walking in all infrastructure improvements, and the encouragement of programs such as Bike to Work Day.
Recent Bicycle and Pedestrian Advisory Group Planning Activities:
Pedestrian Infrastructure Assessment Toolkit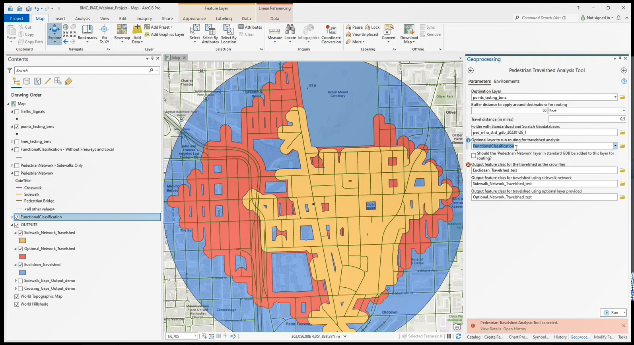 The Pedestrian Infrastructure Assessment Toolkit (PIAT) was developed by the Baltimore Regional Transportation Board in partnership with member jurisdictions. The PIAT includes three toolboxes designed to help member jurisdictions identify pedestrian infrastructure needs and prioritize potential pedestrian infrastructure projects. 
The three toolboxes are:
Data Management Toolbox –Create your own geodatabases structured to work with the PIAT, import your own layers and update existing layers. 
Needs Assessment Toolbox— Identify sidewalk and pedestrian crossing gaps, and evaluate pedestrian travelsheds. A travelshed is the area that can be traveled within a defined distance; 1) using continuous sidewalks and crosswalks, 2) by traveling in a straight-line or "as the crow flies" or 3) by using a user supplied network such as a street network.   
Prioritization Toolbox—Develop a ranked priority list of pedestrian infrastructure improvement locations. User can choose from a variety of demographic, transportation, and spatial variables and adjust their relative weights. The locations can be identified through the Needs Assessment Toolbox above, or through another process. 
To use the PIAT, you will need:
ArcGIS Pro—the Toolkit has been developed and tested in ArcGIS Pro 2.9.0.
ArcGIS Pro Advanced license—needed for the Needs Assessment Toolbox to function fully. Basic and Standard license levels will work with limited functionality. See Section III.B in the manual for additional information.
Spatial Analyst extension—needed for the Travelshed Analysis Tool.
GIS experience related to data formatting.
Sidewalk data—Can be acquired from OpenStreetMap.org or through the open data site for your city or county, if they have a publicly available sidewalk dataset. Note that this sidewalk data must be processed to be formatted as indicated in Appendix A of the Manual and imported according to instructions in Section II of the Manual.
Cost Estimating Tool For Bicycle Infrastructure Projects
This planning level cost estimating tool has been developed by the Maryland Department of Transportation and the Baltimore Regional Transportation Board's Bicycle and Pedestrian Advisory Group. The purpose of this estimator is to provide guidance to local jurisdictions on project design and construction costs associated with bicycle infrastructure. Cost estimates within this tool are developed by identifying pay items and establishing generalized quantities, and a 30% contingency to allow for items not yet designed. The cost estimator is also provided as a general planning tool to compare costs from planning, development and engineering professionals. This tool was developed in December 2020 and will be updated annually.
Regional Bicycle Facilities Map
The BPAG developed the desire to create a regional map of all current, programmed, and planned bicycle facilities to aid the planning process. The BRTB supported that concept and funded local planners to locate and share relevant data.
The Regional Bicycle Facilities Map contains all existing bicycle trails and lanes in the Baltimore region. The focus is on commuting, rather than recreational cycling. It will enable better transportation planning by allowing planners to identify gaps in connectivity among existing bicycle trails and lanes.
Information includes location, facility type, side of road, trail or road name (if applicable), and speed limit (if applicable). Bicycle trails that do not aid in commuting, such as a small loop in a park, likely will not be represented on the Regional Bicycle Facility Map.
The new data can be accessed through an online mapping application. For planners and advanced data users, the raw GIS data is available for download via BMC's Regional GIS Data Center.
The Regional Bicycle Facilities Map is a collaborative product of BMC, the Bicycle and Pedestrian Advisory Group, county planning and GIS partners from the Baltimore region, the Maryland Department of Planning, Maryland Department of Transportation, and the Maryland Department of Natural Resources.
Top Bicycle Priorities in the Baltimore Region with Status Updates
Bicycle and Pedestrian Bridge across the Patuxent River connecting Anne Arundel and Prince George's Counties:  this project has been funded for construction and is underway.
Complete multiple projects that are part of the Patapsco Greenway Trail System, connecting the Grist Mill Trail, Ellicott City, BWI Trail, Gwynn's Falls Trail, and the Baltimore City trail network:  This trail concept was funded for preliminary planning through the BRTB Unified Planning Work Program. The multi-jurisdictional nature of the project necessitated bringing together a wide variety of stakeholders. Local jurisdictions were important in providing data and identifying key stakeholders and community groups that were included in public review. DNR involvement was vital as much of the property is on DNR land in the Patapsco Valley State Park. The feasibility study looked at potential trail alignment, cost estimates, easement and right-of-way issues, and a segmented approach for moving the project forward.
Following completion, the BRTB funded the segment from U.S. 1 in Elkridge to the Guinness Open gate Brewery for 30% design. Work is underway at this time. An additional segment has been funded for the upcoming fiscal year.
Develop the missing link of the Ma & Pa Trail north of Baltimore:  The existing Ma & Pa Trail extends west and north of Bel Air. This project, filling in the missing link between the existing segments, has been a priority for Harford County for a number of years. Recently Harford County was able to acquire the private property needed. Harford County secured funding to construct two segments of the Trail, which are now underway.
Develop the Cromwell Bridge Trail and link to the Towson Spokes Trail:  These two trails will be pursued by Rec & Parks in the future.
Develop the BGE Northeast Region Trail: This is a key segment of the planned "emerald necklace" bike loop surrounding Baltimore City. It connects to Baltimore County, with plans for a trail extending to White Marsh. A coalition in Baltimore City is currently working on the Baltimore Belt Line.