BALTIMORE, MD (Thursday, November 3, 2022) – Baltimore Metropolitan Council (BMC), the Baltimore region's council of governments and metropolitan planning organization, released its 2022 Annual Report. The report includes the agency's audited financial statement and highlights of major plans and projects from the previous fiscal year.
"We are reconnecting, healing and flourishing after a challenging and fragmented time," says BMC Executive Director Mike Kelly. "We at BMC are proud to take part in this work and excited to build on our momentum as we look ahead."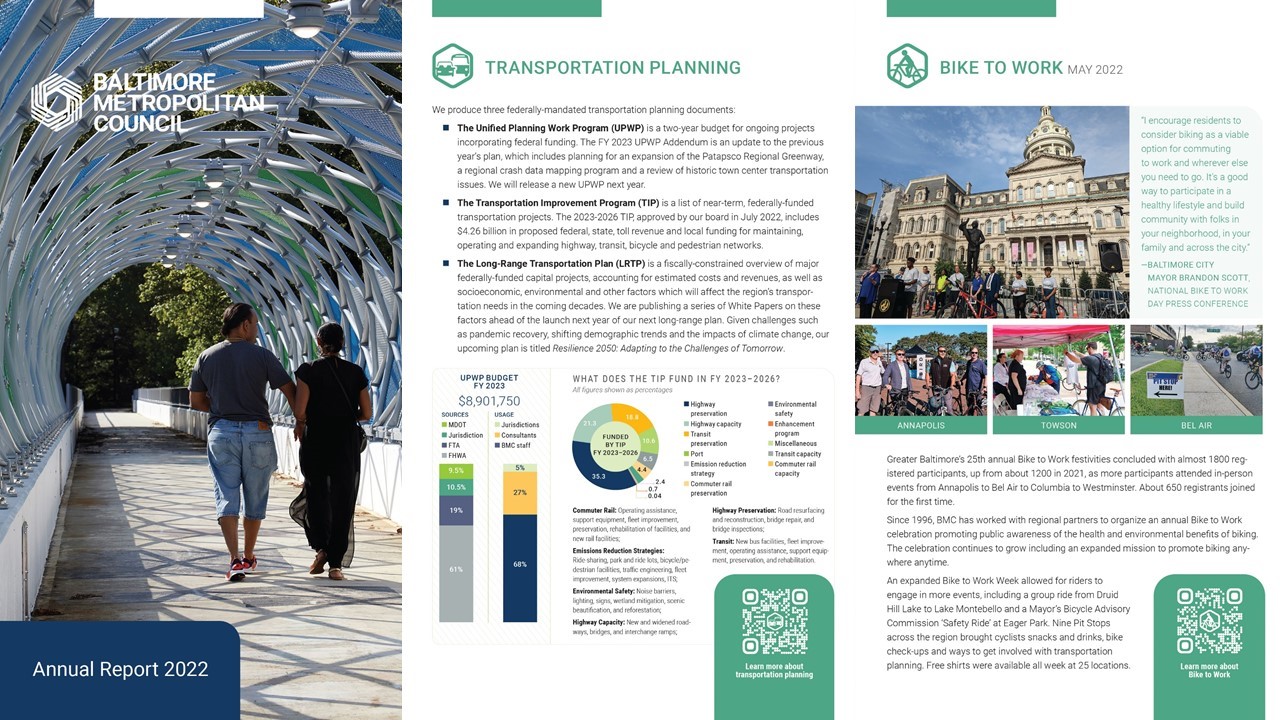 In the last year, BMC oversaw development of a $4.26 billion Transportation Improvement Program and a Resilience 2050 long-range plan. Staff created tools to assist local planning efforts including population and employment growth forecasts, traffic safety performance targets and a climate change resource guide. BMC's Regional Project-Based Voucher Program helped more than 30 families find affordable housing, and the Baltimore Regional Cooperative Purchasing Committee's Energy Board saved a record $32.5 million on electricity.
As the region recovers from the COVID-19 pandemic, BMC has increasingly returned to in-person programs. After cancelling a trip to Minneapolis slated for 2020, BMC took a group of Baltimore-area leaders to Philadelphia for its 4th Chesapeake Connect trip. A few months later, greater Baltimore's 25th annual Bike to Work festivities saw almost 1800 participants joining in-person events around the region.
Along with the 2022 Annual Report, BMC is also launching a quarterly newsletter to keep readers looped in on the agency's activities. Click here to sign up.
###
Baltimore Metropolitan Council (BMC) works collaboratively with the chief elected officials in the region to create initiatives to improve quality of life and economic vitality. As the Baltimore region's council of governments, BMC hosts the Baltimore Regional Transportation Board (BRTB) and supports local government by coordinating efforts in a range of policy areas including emergency preparedness, housing, cooperative purchasing, environmental planning and workforce development.
BMC operates its programs and services without regard to race, color or national origin in accordance with Title VI of the Civil Rights Act of 1964 and other applicable laws. Appropriate services can be provided to qualified individuals with disabilities or those in need of language assistance who submit a request at least seven days prior to a meeting. Call 410- 732-0500. Dial 7-1-1 or 800-735-2258 to initiate a TTY call through Maryland Relay. Si se necesita información de Título VI en español, llame al 410-732-0500.